Free U.S. shipping and returns on orders over $30
Order 5+ for 10% off
Designed with an ultra-large 2" display that automatically rotates to how it's held, the Javelin PRO Duo is our fastest and most accurate professional-grade foldable thermometer.
Voted #1 mid-priced thermometer by America's Test Kitchen and Wirecutter and #1 overall thermometer by NBC News.
Blazing fast. No compromises.
Building on the success of Javelin, our engineers have brought the response time of Javelin PRO Duo down to a blistering 2-3 seconds by supercharging it with an ultra-sensitive Japanese sensor. And with an accuracy of ±0.9°F, its performance is unrivaled.
Our brightest, sharpest display ever.
The key to the Javelin PRO Duo experience is through its large 2" backlit antifog display. We use a state-of-the-art super-twisted nematic display with a 360° global viewing angle, giving you spectacular clarity no matter how to look at it.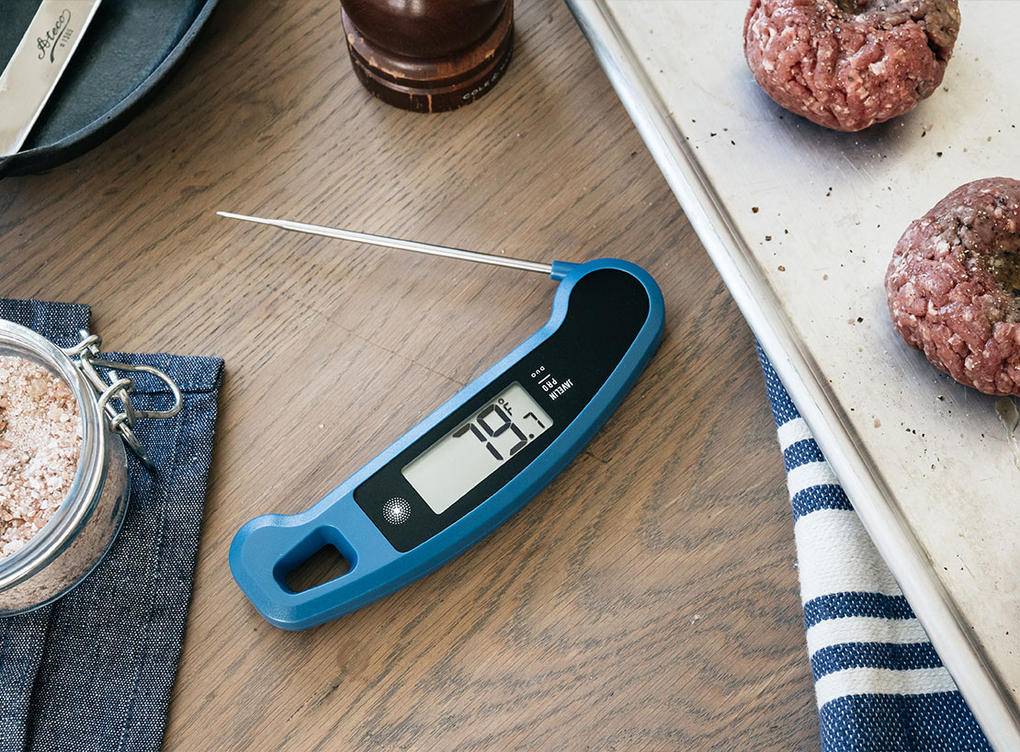 Intelligence right at your fingertip.
Javelin PRO Duo's intelligent stabilization feature makes measuring temperatures even easier. By pressing the touch pad, the Javelin PRO Duo holds the stabilized temperature and beeps to notify you.
Cut out all the guesswork.
It's hard to believe that something so simple can be so useful. Javelin PRO Duo is designed from the ground up to conquer any kitchen task, giving you precise readings for everything from pulled pork to pourovers.
MEAT
Raw speed and precision delivers juicy perfection every time.
BREAD
4.5" probe allows you to reach the center large loaves.
CANDY
Intelligent stabilization keeps your face away from bubbling sugar.
COFFEE
Antifog coating keeps the readout display crystal clear.
HOMEBREW
Getting your device wet doesn't mean you have to slow down.
FRYER
High measuring range puts Javelin PRO Duo right at home.
A truly modern cooking thermometer.
Along with all the features found on the Javelin like integrated storage magnet, IP65 splash resistance, and silver-based antimicrobial protection, we built Javelin PRO Duo to bring even more to the table.
Ambidextrous Display

Intelligent display automatically rotates depending on how it's held, making it perfect for lefties and awkward angles alike.

Energy Efficient

No one likes replacing batteries so we designed Javelin PRO Duo to last over 4000 hours on a single battery.

Auto-Sleep & Motion-Wake

Auto sleep puts your idle device to sleep to save on power. Simply pickup your device to wake it.

Motion Activated Backlight

Motion sensors illuminate backlight via a simple jolt, making it operable even with heat-proof gloves on.
Technical specifications.
Rigorously engineered to be durable, efficient, and compliant with international food-safety guidelines, all our products are also free of lead, mercury, cadmium or other hazardous substances.
Performance

Response time: Typically 2-3 seconds
Accuracy: ± 0.9°F @ -4°F~302°F (± 0.5°C @ -20°C~150°C)
Range: -40°F~482°F (-40°C~250°C)

Power

Battery life: 4000+ hours
Battery type: 1x CR2032 button cell battery

Features

°F/°C configurable
No calibration needed
2" antifog backlit display
Auto-sleep & motion-wake
Intelligent stabilization alert
Ambidextrous display
Motion-backlight activation
MIN/MAX temperature
Antimicrobial coating
Magnetic attachment
IP65 splash resistant
Zeomic antimicrobial coating
Ø 1.6mm tapered tip

Certification

NSF, CE, RoHS, 100% BPA free

Warranty