Free U.S. shipping and returns on orders over $30
The Lavatools Carbon Lite Bluetooth Smart thermometer is designed to help you to monitor and know when your food is ready – even when you're away from the kitchen. With the Carbon app, you can choose from a library of gourmet temperature alarms or create your own based on what you're cooking. Along with additional stopwatch and resting alarms, you'll achieve award-wining results while entertaining your guests.
Built for professional use. Right down to the tip.
Carbon Lite is built with the same care and precision that goes into all Lavatools products. With an aluminum semi-body and an all-metal waterproof stainless probe, Carbon Lite is built to take on the all tough tasks you'll throw at it.
Don't miss a thing with Carbon.
DASHBOARD
Carbon's simple, easy-to-read dashboard is where you'll find everything to monitor your cooking progress such as cooking temperature, ambient temperature, and cooking time. PROFILE LIBRARY
Cooking is all about hitting the right temperature and Carbon contains a library of temperature profiles to choose from. And if your masterpiece needs a custom temperature, there's an option for that too. ALARMS
You can't always be on top of everything, so Carbon has useful alarms to remind yourself of important temperature thresholds or the timer alarms to keep track of resting periods.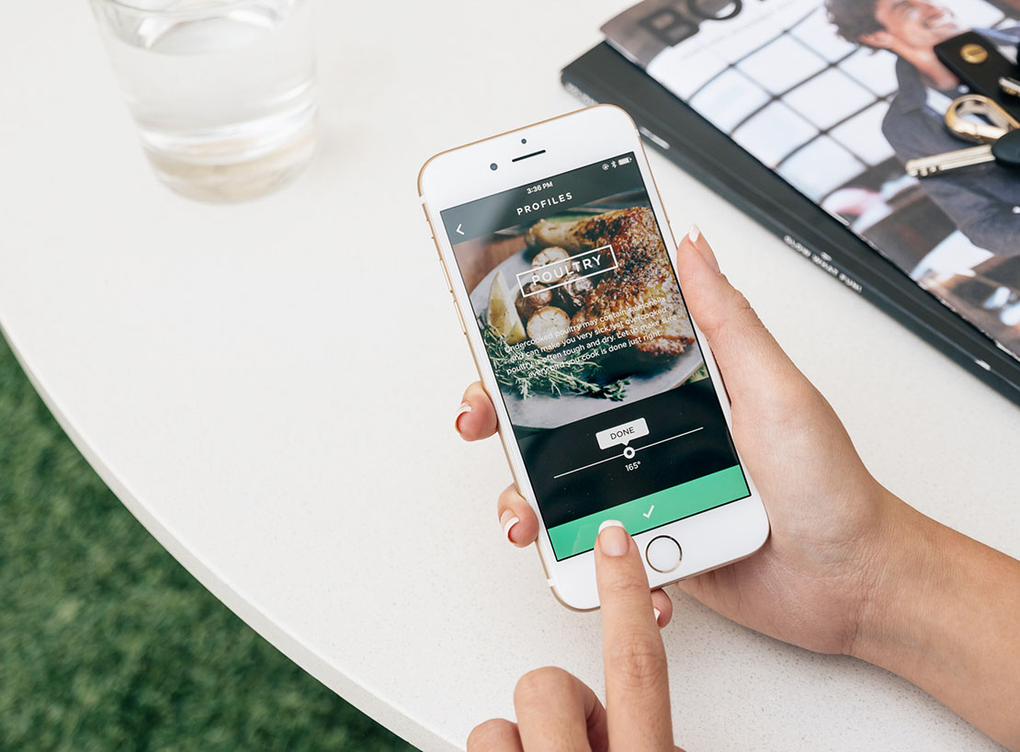 One tool. Multiple styles.
GRILLING
Carbon Lite is ideal for grilling. It let's you step away from the grill and work on other items while still ensuring perfect results. ROASTING
Whether it's a rack of lamb, swordfish steak, or the holiday turkey, Carbon Lite will make any oven work a piece of cake. SMOKING
Professional quality probe with advanced dual-sensors means that you can measure ambient and meat temperatures all at once.
Technology designed for everyday grilling, roasting, smoking.
Advanced Dual-Sensor Probe

Dual high-performance sensors offers temperature of both your food and the ambient temperature your oven or smoker.

115' Bluetooth Smart Range

Bluetooth Smart extended range is long enough for you to go inside or lounge by the pool while waiting for your food.

Magnetic Back & Stand

Integrated magnetic allows you to attach Carbon to your oven or grill. An aluminum stand is also included for non-magnetized areas.

Illuminated Doneness Display

As your food comes up to temperature, the illuminated indicator will turn yellow, then red; giving you at-a-glance doneness indication.
Technical specifications.
Rigorously engineered to be durable, efficient, and compliant with international food-safety guidelines, all our products are also free of lead, mercury, cadmium or other hazardous substances.
Probe

Accuracy: ± 1.8°F @ -4~302°F (± 1°C @ -20~150°C)
Main sensor range: -40~572°F (-40~300°C)
Ambient sensor range: -4~572°F (-20~300°C)
Probe length: 4.5" (11cm)
Cable length: 48" (1.2m)
Ø 2mm tapered tip
IP65 water resistant

Connectivity

Bluetooth® Smart 4.0
115' line-of-sight range (35m)
Requires iOS 7 or newer
Compatible with iPhone 4s and newer, iPad Mini, iPad 3 and newer

App Features

°F/°C configurable
No calibration needed
Library of temperature profiles
Custom-made temperature profiles
Switch between USDA and gourmet temperatures
MIN/MAX temperature profile
Timer, stopwatch, and resting alarm
Battery monitor

Certification

Warranty

Limited 3-year excluding probe