We brought the food thermometer to the 21st century.
For too long we've had to put up with cheap, inaccurate, and sluggish thermometers that look more suited for a hospital than a kitchen. That's why we designed the Javelin. Unlike other thermometers, the Javelin is fast, precise, durable, and simple to use.
Compact Body Big Features.
Housed in a 100% BPA-free polycarbonate body, the Javelin boasts a high-performance sensor and other professional features without compromising on size and portability.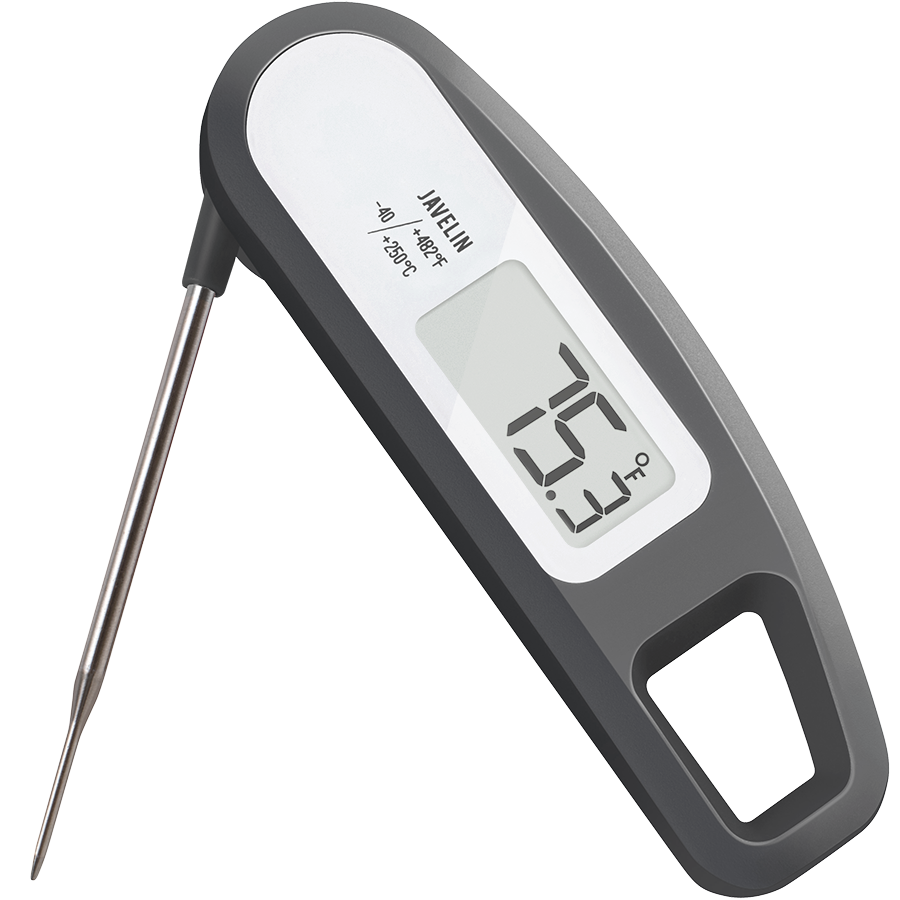 High Performance

The Javelin achieves a 4-second reading with an accuracy of ±0.9°F.

Splash Resistant

IP65 splash resistant construction protects Javelin from minor spills and kitchen mishaps.

Magnetic Back

Integrated magnet allows Javelin to attach onto your oven or refrigerator.

Antimicrobial

Impregnated with Zeomic silver-based antimicrobial to inhibit 99.9% of pathogen growth.
Technical specifications.
Rigorously engineered to be durable, efficient, and compliant with international food-safety guidelines, all our products are also free of lead, mercury, cadmium or other hazardous substances.
Performance

Response time: Typically 4-5 seconds
Accuracy: ± 0.9°F @ -4°F~302°F (± 0.5°C @ -20°C~150°C)
Range: -40°F~482°F (-40°C~250°C)

Power

Battery life: 4000+ hours
Battery type: 1x CR2032 button cell battery

Features

°F/°C configurable
No calibration needed
1.5" display
Sleep mode
Magnetic attachment
IP65 splash resistant
Zeomic antimicrobial coating
Ø 1.6mm tapered tip

Certification

NSF, CE, RoHS, 100% BPA Free

Warranty